BUILD YOUR OWN CUSTOM EXHAUST WITH BILTWELL
"Forget the fashion-show, don't worry about internet know-it-alls and the self righteous, just build, ride and enjoy your motorcycle!"
That's straight from the Biltwell Manifesto.  Ever since Biltwell began, they have been at the forefront of the movement and trend towards more garage mechanics hand building their own custom motorcycles.  They don't believe in all of the over-the-top flashiness of show bikes.  Instead, Biltwell produces motorcycle parts that are not only high quality and functional but affordable enough so that anyone can benefit from them.
The average garage builder can't afford to build a bike with the most expensive and flashy parts.  Nor do they necessarily want to.  Biltwell parts provide those builders with something that they can work with to make a bike build their own.  A perfect example of this is their Builders Exhaust Kit.
Exhaust systems can be the hardest thing to customize on a hand-built motorcycle, especially if you lack the necessary tools in your garage, like a pipe bender.  The Biltwell Builders Exhaust Kit has everything that you need to make your own custom exhaust for a Big Twin.  The kit has been around for a few years now and DIY fabricators have been loving the idea.  With it, they can easily construct their own custom exhausts.
The kit is constructed of 1.75 in. O.D. x 16-guage rolled steel tubing that is pre-polished and ready to be welded and chromed or powder coated when finished.  There are two 16 in. straights, two 3.5 in. radius U-bends with straights, and two 5 in. radius U-bends with straights.  The kit also includes two of each flanges for a panhead, ironhead, shovelhead, Evo or STD headers plus two fishtail tips.  That's enough tubing to make a set of pipes and still have some left over for your next custom set.
The kit allows you to fabricate an exhaust that fits the new lines of your custom bike with the look that you want for less.  Once you have your exhaust fabricated you can finish it the way that you like, whether it's with chrome plating, powder coating, wrapped or simply clear-coated to preserve the raw steel look.  Whichever direction you choose, it will be just that, your direction.
In the past, you were left to your own devices to find mufflers for your new custom exhaust.  That isn't the case anymore, though.  Biltwell has now released their own line of Mini Mufflers that slip fit over the open ends of 1.75 in. pipes.  These Mini Mufflers are the perfect finishing accent to your custom exhaust.
The Biltwell Mini Mufflers are available in a variety of styles including the Stinger, Cannon, Grenade and Javelin.  All of these styles are offered in either a triple chrome plating or a high-temp powder coat.  All will produce a unique sound and may even add a bit of performance to your bike.  With this selection, there should be a muffler for just about any of your custom hand-built exhausts.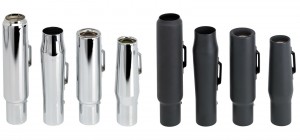 You will find that these Mini Mufflers are made from the same 16-guage steel, which will provide consistency throughout the construction of the whole system.  The canister is TIG welded with a stamped steel hanger bracket that sports the Biltwell anvil marking.  On the inside, Biltwell has included a gold zinc plated steel baffle tube being held in with the stamped and TIG welded end caps.  The removable baffle is surrounded by a fiberglass packing for additional sound muffling and will also work as a spark inhibitor in case of a backfire.
Even if you don't have an exhaust built with the Biltwell Builders Exhaust Kit, you can still use the Mini Mufflers as long as you have a 1.75 in. O.D. straight pipe.  To install it, the muffler can be held on in a couple of ways.  The first is by using any standard P-clamp made for exhaust systems.  Also, the mounting strap on the back gives you a place to mount a bracket to attach the muffler to your bike.  This is perfect for custom applications.
It has never been easier to fabricate and customize your own exhaust.  Pick up a Biltwell Builders Exhaust Kit and a Mini Muffler to get a look that will set your bike apart from the rest.
Source: Powersports Blog